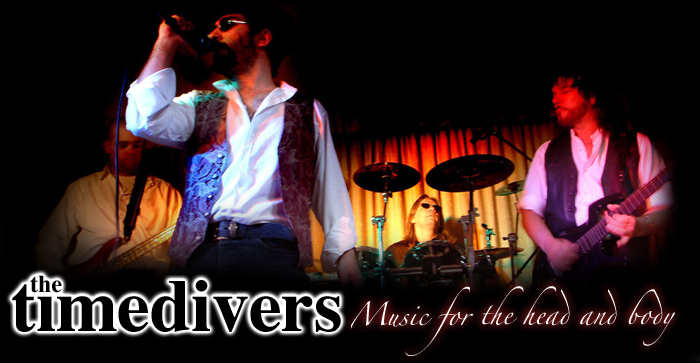 Band Information | Biographies | Gig List | Testimonials | Gallery | Sounds | Merchandise | Booking Enquiry | Contact

---
Shropshire's and the Midlands hardest working blues, rock and r&b band - The Timedivers. Is there truth in that? Who knows!
In the Shropshire and Midlands area, the Timedivers are your number one choice for weddings, parties and gigs.
Weddings: The band can cater for all kinds of wedding receptions and parties, with a flexible repertoire.
Gigs and parties: Midlands and Shropshire beware ! If the Timedivers are playing near you, there will be a rush at the door! Get there early.
John Cubbin, lead guitarist with the band says: We really are a hard working rock band. Weddings, pub gigs, club gigs, birthdays, parties, corporate functions, in fact, anything that gets us away from Eastenders or Big Brother basically!"
All hailing from Shropshire and the Midlands, the guys have their roots set firmly in rock and blues, the band are adaptive to contemporary pop and Paul Harrison, the band's lead vocalist, is even known to don a set of dreadlocks to bring you the Timediver's very own rendition of classic Shropshire Dub Reggae!
Based in Shropshire, UK, (Midlands) but prepared to travel for wedding gigs or rock gigs, the band consists of a full rock/blues stage setup:
David Tape - Drummer
Jamie Williams - Bass guitar and keyboard
Paul Harrison - Lead vocal, blues harp, acoustic guitar,
JC, the man-machine guitarist, John Cubbin.
Shropshire's freshest sounds, their gigs are legendary (in their own lifetimes!).
Rocking many popular Shropshire venues such as the famous Yorkshire House, Shrewsbury, the Bassa Villa in Bridgnorth, the Haygate in Wellington, and many many more. The Timedivers have done it all, from a Wedding in the Wirral to a Birthday in Bath!
Shropshire, the Midlands, Chester, Staffordshire or Hereford… Wherever they go, they definitely get your toes tapping. Aside from the four guys themselves, expect rock, roll, rhythm, blues, smoke, lights and even bubbles! (Not the chimp!)
Aside from Shropshire, the band play many parties, weddings and other gigs for fun, money, love and charity!
You don't have to travel far to hear the Timedivers! Let the Timedivers come to you! Your venue or event is our destination, be it a 50th birthday party or a wedding, big or small, we are the ideal choice.
John Cubbin is also the main man behind the famous Audio XL recording studios in Shrewsbury (http://www.audioxl.co.uk), Shropshire. And with this facility at hand, the Timedivers are now recorded professionally on location and in the studio and transferred to CD for your pleasure. Check out our Merchandise pages for more information.
So, for your next event, why not book Shropshire's answer to the blues! The Timedivers! Our wedding set is legendary!
Rock, blues, R & B, Smoke, lights and four guys who will definitely get your toes tapping, the Time divers are THE band for your next wedding, gig, birthday or other event!