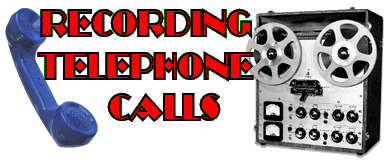 I ve been recording my telephone calls since the mid-80 s so I think it s about time I write a tutorial on how to record your phone calls. There are a lot of different reasons you might want to record your phone calls. The obvious reason on this web site is comedy - recording funny prank calls so that other people can hear them. Maybe you re forgetful and just want to keep a record of your phone calls for later review. If you run your own podcast show, these recording methods work great for podcasting telephone calls. Or maybe you d just like to tap and record someone else s phone line, or even a public phone. This page should hopefully show you everything you want to know about tapping phones and recording phone calls.
Before we begin, you should know that tapping phones without permission is obviously very illegal. Recording a phone call, even your own, is possibly illegal too. This site does not condone breaking and state or federal laws when tapping and/or recording a phone call. There are state laws and federal laws that you should check before you start recording phone calls. A good source for checking this is Can We Tape which is a great guide to state and federal laws.
The federal Omnibus Crime Control and Safe Streets Act of 1968, 18 U.S.C. Sec. 2510 et seq., prohibits the willful interception of telephone communication by means of any electronic, mechanical, or other device without an applicable exemption. In the absence of more restrictive state law, it is permissible to intercept and record a telephone conversation if one or both of the parties to the call consents. Consent means authorization by only one participant in the call; single-party consent is provided for by specific statutory exemption under federal law. 18 U.S.C. Sec. 2511(2)(d).
That s just federal law. Your own state law might have stricter laws on taping. And if you re calling someone in another state, THEIR state might have even stricter laws on it. In the end, if you get into some kind of trouble over recording a phone call, they can use whatever federal or state law they want against you. Even if it s a state law from the state of the person you called and not your own state.